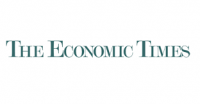 By Nishtha Saluja |Updated: Nov 21, 2017, 01.02 AM IST
NEW DELHI: Clean energy companies are increasingly looking abroad to expand business and diversify risks even as some state utilities in the country are now backing out of contracts, threatening the viability of a number of renewable power plants.
Leading companies like Hero Future Energies are pursuing opportunities overseas after establishing themselves in India. Major rooftop solar developer SunSource Energy already gets one-third of its business from overseas projects and its competitor CleanMax Solar forayed into the UAE recently. Gensol, an energy engineering, operations and maintenance (O&M) player, is active in nine countries, excluding India.


"We've always maintained that "We've always maintained that anywhere between 15-20% of our business should come from overseas," said Rahul Munjal, managing director at Hero Future Energies. "Now that we've already reached 1GW (capacity) in India, we will actively start pursuing these opportunities." He didn't name any overseas market the company looks to enter.
Analysts said markets like Southeast Asia, Africa and the Middle East are becoming increasingly attractive for Indian clean energy developers and EPC (engineering, procurement and construction) service providers, for the fact that they are still quite unexplored and allow companies to maintain larger profit margins.
"Most companies are trying to go into emerging markets, because penetrating into developed markets like the US and Japan is very difficult, as their norms and contractual process are much more stringent," said Vinay Rustagi, managing director at solar consulting firm Bridge to India.

Gensol founder Anmol Singh Jaggi said his company looks at overseas opportunities as a way to hedge risks geographically, having grabbed a good share of the Indian market. "Otherwise tomorrow (if) one discom starts reneging on their contracts, then valuation of your company can crash from .`100 to.`20," he said. "I'm sure it will not happen but if it does, then the valuation of these Indian companies will be nowhere." Therefore, Jaggi said, renewable energy companies need to have "some Africa portfolio, Middle East portfolio, some southeast Asia portfolio, so it looks better on them".

Growing 300% year-on-year, Gensol is already present in nine countries excluding India.
Experts, however, said while overseas business offers a sparkling opportunity, there are more risk factors and getting project clearances is more difficult.
Kuldeep Jain, managing director at major solar rooftop developer CleanMax Solar, said that while profit margins may be higher in international businesses, risks involved and operating expenses are higher than in India.
"We have a lot of multinational clients keen to work with us across geographies, and client requirement is, therefore, primary driver of such plans," Jain said. CleanMax Solar forayed into the UAE six to eight months back.
SunSource Energy, another major player in the solar rooftop segment, already has 35-40% of its business coming from international operations, and it looks to increase this share to 50%.
"It is not just about profits, we are doing good in India, and we have the kind of expertise that we can bag contracts abroad as well," company president Kushagra Nandan said. "We have a global firm's perspective but we are also working very very local."
Nandan said that a lot of markets require niche applications and solutions for specific challenges such as, for example, how to eliminate or reduce diesel generators. "It also helps our team to keep their critical thinking hat on and there is always that process of connecting dots," he said.